Session Information
Session Type: Abstract Submissions (ACR)
Background/Purpose:   Autoinflammatory disorders are characterized by chronic inflammation, and a variety of systemic complaints.  Defects in the NF-kb essential modifier, or NEMO, are associated with an immune deficiency characterized by ectodermal dysplasia.  We present a novel autoinflammatory disorder following an autosomal dominant pattern characterized by chronic inflammation, metaphyseal chondrodysplasia, ectodermal dysplasia with hypohidrosis, hyper-IgD and growth failure not associated with immune deficiency in a family. 
Methods:   Seven individuals from one family were identified.  The proband, a male patient age 12 with known hypohydrosis, presented to our rheumatology clinic for chronic articular pain with bony hypertrophy of wrists, knees, and ankles.  Standard labs were obtained including ESR, CRP, and CBC for all affected individuals.  Plain radiographs and immunoglobulins were obtained from patient, father and sister.  Films reviewed by two musculoskeletal radiologists.  The proband underwent proximal tibial bone biopsy and marrow aspirate, as well as genetic testing for known autoinflammatory disorders. 
Results:   The proband, his father age 30, two brothers age 7 and 9, and his 2-year-old sister were all found to have ectodermal dysplasia, short stature and failure to thrive (Figure 1).  The youngest affected was evaluated for fevers and elevated inflammatory markers from birth.  The patient's father was admitted as a child for bone issues.  All affected members exhibited chronically elevated ESR ranging between 64-118 mm/hr and elevated WBC. Radiographs of proband displayed symmetric lucent and sclerotic lesions of the metaphysis of distal radius/ulna, distal femora, and proximal and distal tibia/fibula (Figure 2).  His father demonstrated widened metaphyses of distal ulna and tibia, but did not have lesions.  Immunoglobulins were elevated in the patient and his father with IgD levels of 755 mg/L (<179 normal) and 600 mg/L, respectively.  Bone biopsy of the proband was consistent with metaphyseal chondrodysplasia with marrow spaces consisting of loose fibrous stroma or cartilage, with scattered lymphocytes and plasmacytoid cells.  Genetic testing was negative for mutations of CIAS1, LPIN2, MVK, IKBKG (NEMO), PSTP1P1, and TRAPS.
Conclusion: We propose a novel, autoinflammatory disorder resulting in osseous abnormalities, ectodermal dysplasia and Hyper IgD.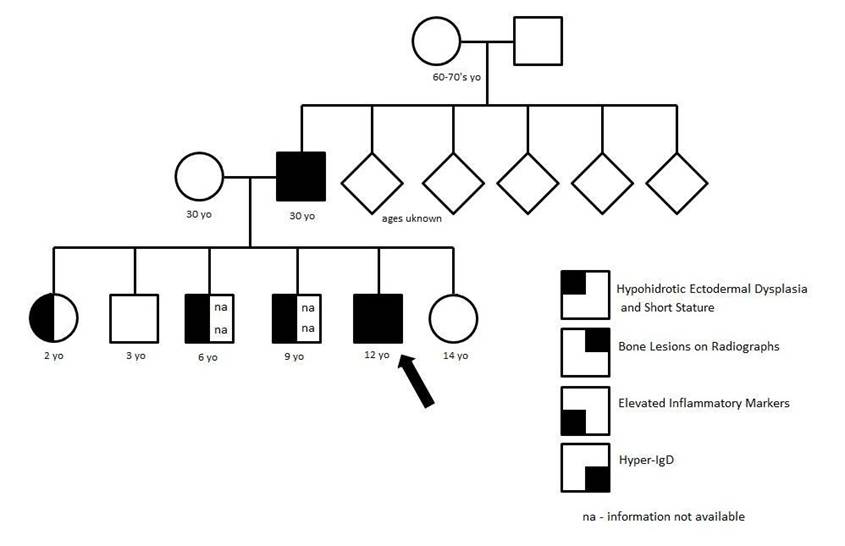 Figure 1.  Pedigree.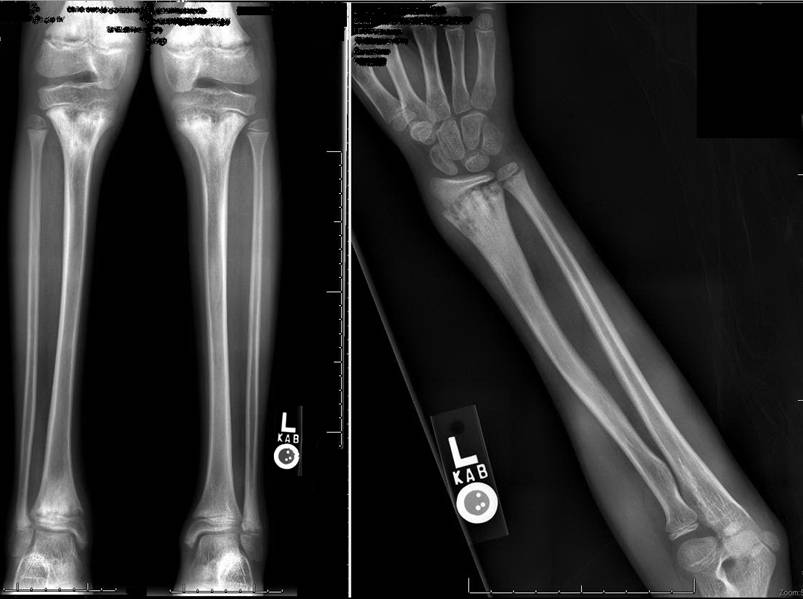 Figure 2.  Proband radiographs.
---
Disclosure:
E. J. Oberle,
None;
J. W. Verbsky,
None.
« Back to 2013 ACR/ARHP Annual Meeting
ACR Meeting Abstracts - https://acrabstracts.org/abstract/a-novel-autoinflammatory-disorder-characterized-by-ectodermal-dysplasia-metaphyseal-chondrodysplasia-growth-failure-and-hyper-igd-in-a-single-family/