Session Information
Session Type: Abstract Submissions (ARHP)
A Multi-Center Study of the Appropriateness of Anti-Neutrophilic Cytoplasmic Antibody Testing
Background/Purpose: Anti Neutrophil Cytoplasmic Antibody (ANCA) test is an Indirect Immunoflorescence test used as an aid in the diagnosis of ANCA Associated Small Vessel Vasculitis (AASVV), namely, Wegener's Granulomatosis, Churg Strauss Vasculitis and Microscopic Polyangitis and its renal-limited variant (pauci-immune crescentic glomerulonephritis). In an effort to decrease the false positive ANCA tests and improve the clinical utility of this test, guidelines for ANCA testing were proposed in 1999. We aim to compare the trend of ANCA testing in practice with the proposed guidelines and thereby calculate the disparity in testing, if any, including the financial burden such testing would pose.
Methods: In this study, we assembled all the ANCA tests that were ordered on hospitalized patients during a 2 year period at 2 academic medical centers. A chart review (by a physician blinded to ANCA test results) was performed and the indications used by physicians for ordering each of the ANCA tests were then compared against the proposed guideline-indications for ANCA testing.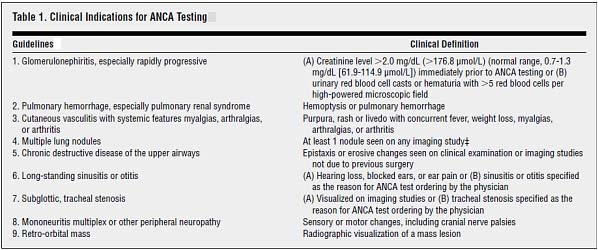 Results: Of the 204 ANCA tests examined, only 98 were ordered using the guideline indications. The commonest of the non-guideline indications were Colitis(25%) and Liver disease(6%) whereas the commonest guideline indications were Acute Renal Failure(ARF)(54%) and hemoptysis(19%). All 3 positive test results were false positive and failed to meet the guideline indications to begin with. Among the commonest guideline indication of ARF, majority cases(75%) had an alternate obvious etiology for ARF at the time of ordering the ANCA test itself. All the non-guideline testing was ordered by primary care physicians, nephrologists and residents and led to an extraneous health care expenditure of over $25000 for the send-out lab test over the 2 year period.    
Conclusion: In this study we conclude that the ANCA test has limited utility in the academic centers included in our study, mostly due to the use of non-guideline testing indications by physicians. Increased awareness regarding the appropriate use of the ANCA test among physicians is critical since it would not only assist in the diagnosis of AASVV, but also help increase the cost-effectiveness of this crucial test. 
---
Disclosure:
T. S. Sharma,
None;
V. Sinha,
None;
V. Unson,
None;
S. Acharya,
None;
S. Mohammadi,
None;
A. Syed,
None.
« Back to 2012 ACR/ARHP Annual Meeting
ACR Meeting Abstracts - https://acrabstracts.org/abstract/a-multi-center-study-of-the-appropriateness-of-anti-neutrophilic-cytoplasmic-antibody-testing/