Session Information
Session Type: ARHP Concurrent Abstract Session
Session Time: 2:30PM-4:00PM
Background/Purpose: The Arthritis Foundation's Walk With Ease (WWE) is an evidence-based 6 week community-based walking program for adults with arthritis delivered in instructor-led or self-directed format. It has been shown to improve physical function, pain, stiffness and fatigue. WWE is also a Centers for Disease Control and Prevention-recommended physical activity (PA) program. In recent years, WWE has been scaled-up and expanded to communities across the United States (US), yet is little known outside North America. This study aimed to examine the relevance, acceptability and feasibility of WWE in a United Kingdom (UK) context, where walking for pleasure and transport is culturally embedded.
Methods: This 4 phase study was carried out in collaboration with community and patient partners: 1) Cultural adaptation; 2) WWE program; 3) Qualitative enquiry; 4) Future planning. Recruitment was primarily via invitation letter to persons registered in selected Aberdeen primary care practices. Eligible (≥18 years, doctor diagnosed arthritis (confirmed or self-report), and self-reported joint symptoms in last 30 days, BMI ≥ 25 kg/m2, and <150 min/week of moderate/vigorous PA) and consented participants were randomised into 2 groups: WWE program or usual care. Descriptive statistics explored physical performance measures (PPM), symptoms and beliefs using physical performance assessment and survey data collected at baseline and post-6 week program. Participants' experiences of WWE were explored via video ethnography and narrative interviews, and analysed thematically.
Results: Of 149 participants, the majority were women (70%) aged 60 years (76%). OA was most prevalent (66%), followed by back pain (54%) and RA (13%); most also had at least 1 non-arthritis condition (79%). Among participants, 97 received the WWE program: 52 chose instructor-led; 45 chose self-directed. Follow-up was 80.4% at 6-weeks; 82.5% at 18-weeks. Average walk attendance across 5 walking groups was 63% (11.5/18 walks). Nearly all (99%) would recommend WWE to family or friends and 81% reported they were satisfied with the program. At 6 weeks, about half reported being at least moderately better in physical health (47%) and emotional well-being (53%). Within both WWE formats, statistically significant differences representing improvement were observed at 6 weeks from baseline for PPM, symptoms and beliefs (table). Qualitatively, participants described liking and using the WWE guidebook but wanted a foldable exercise leaflet and expanded online resources. Positive experiences were reported, with emergent themes of improved motivation, mental health and social well-being.
Conclusion: Findings indicate that WWE is a relevant and acceptable walking program in a UK context. Wider implementation of this evidence-based program may benefit the physical health and well-being of people with arthritis.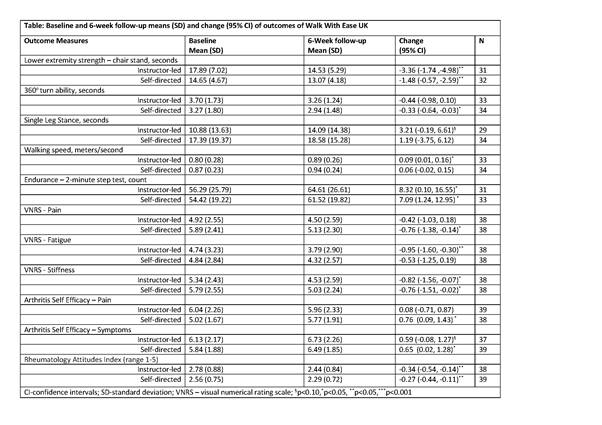 ---
Disclosure: K. R. Martin, None; T. O. Smith, None; S. Gaihre, None; G. J. Macfarlane, None; A. Neilson, None; P. McNamee, None; R. Rae, None; Z. J. Morrison, None.
To cite this abstract in AMA style:
Martin KR, Smith TO, Gaihre S, Macfarlane GJ, Neilson A, McNamee P, Rae R, Morrison ZJ. A Mixed-Methods Feasibility Study Exploring the Cultural Adaptation of Walk with Ease to the United Kingdom [abstract].
Arthritis Rheumatol.
2018; 70 (suppl 10). https://acrabstracts.org/abstract/a-mixed-methods-feasibility-study-exploring-the-cultural-adaptation-of-walk-with-ease-to-the-united-kingdom/. Accessed January 23, 2022.
« Back to 2018 ACR/ARHP Annual Meeting
ACR Meeting Abstracts - https://acrabstracts.org/abstract/a-mixed-methods-feasibility-study-exploring-the-cultural-adaptation-of-walk-with-ease-to-the-united-kingdom/