Session Information
Session Type: Poster Session (Tuesday)
Session Time: 9:00AM-11:00AM
Background/Purpose: Uveitis is an extra articular manifestation of psoriatic arthritis (PsA). Uveitis may be more chronic Biological therapy, especially monoclonal TNF inhibitors, are useful to prevent and to treat refractory non-infectious uveitis. However, other biologics had been related to paradoxical uveitis. Our aim was to assess a) the epidemiological and clinical features of uveitis associated to PsA and b) its relationship with biological treatment used in PsA.
Methods: Observational study of unselected consecutive patients studied in a single reference University Hospital with: a) diagnosis of PsA by CASPAR criteria and b) diagnosis of uveitis by ophthalmologist exploration. Demographics features, clinical findings, complementary tests and treatment were recorded.
Results: We studied 320 (182 women/138 men) patients with PsA; mean age at PsA diagnosis of 41.7±15.79 years and with a delay of diagnosis from the onset of symptoms of 2.6±2.01 years.
Ten patients (4 men/6 women) out of 320 patients (prevalence 3.13%) with a mean age of 42.2 ± 16.8 years were diagnosed of uveitis after a mean follow-up of 10±7.9 years. In all cases, the uveitis had an anterior pattern. Only 1 (10%) of them had a bilateral affection, acute onset in 10 patients (100%), and 4 of them (40%) had a recurrent pattern. The diagnosis of uveitis preceded the one of PsA in 5 (50%) patients in 1.6±0.87 years. In those with a previous diagnosis of PsA, it was done 13.3±10.4 years before the uveitis onset. Only 1 patient (10%) with recurrent unilateral uveitis presented vitritis. In 10 patients the mean number of anterior chamber cells was 2±0.4. Comparison of baseline characteristics and clinical features between patients who developed uveitis and those who did not is shown in table.
Only 2 patients (20%) with uveitis received biological therapy. The first one developed its first episode of uveitis after 29 months with etanercept. After the episode, a switch to adalimumab was done, without any other episode of uveitis after 22 months of treatment. The second one was a patient with multiple episodes of recurrent uveitis, who developed new flares with adalimumab, certolizumab and golimumab.
Conclusion: Most of the uveitis had an anterior and unilateral pattern. The onset of uveitis in patients with PsA can either precede or go after the diagnosis of the PsA. HLA B27+ was more frequent in patients with uveitis. Biological therapy did not achieve good answer in patients with recurrent uveitis.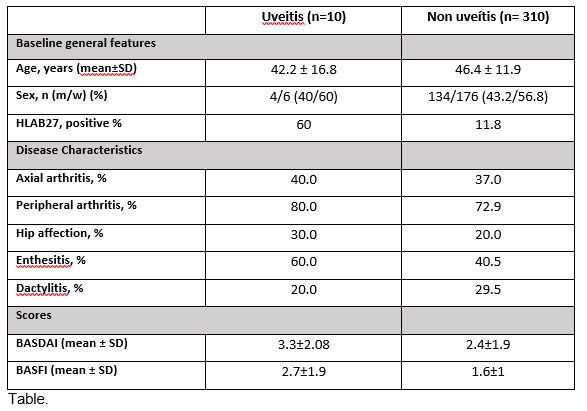 ---
Disclosure: I. Gonzalez-Mazon, None; L. Sanchez-Bilbao, None; N. Palmou-Fontana, None; D. MARTINEZ-LOPEZ, None; M. Calderón-Goercke, None; D. PRIETO- PENA, None; S. Armesto-Alonso, None; M. Gonzalez-Gay, Abbvie, 2, 5, 8, Celgene, 5, 8, Janssen, 2, MSD, 2, 5, 8, Pfizer, 5, 8, Roche, 2, 5, 8, Sanofi, 5, 8, Sobi, 5, 8; R. Blanco, None.
To cite this abstract in AMA style:
Gonzalez-Mazon I, Sanchez-Bilbao L, Palmou-Fontana N, MARTINEZ-LOPEZ D, Calderón-Goercke M, PRIETO- PENA D, Armesto-Alonso S, Gonzalez-Gay M, Blanco R. Uveitis in 320 Patients with Psoriatic Arthritis. Epidemiology, Clinical Features and Biological Treatment: Study from a Single University Center [abstract].
Arthritis Rheumatol.
2019; 71 (suppl 10). https://acrabstracts.org/abstract/uveitis-in-320-patients-with-psoriatic-arthritis-epidemiology-clinical-features-and-biological-treatment-study-from-a-single-university-center/. Accessed February 28, 2021.
« Back to 2019 ACR/ARP Annual Meeting
ACR Meeting Abstracts - https://acrabstracts.org/abstract/uveitis-in-320-patients-with-psoriatic-arthritis-epidemiology-clinical-features-and-biological-treatment-study-from-a-single-university-center/