Session Information
Session Type: Abstract Submissions (ARHP)
Background/Purpose:                                                                                         
While lower extremity function is thought to affect mobility, little is known of the influence of foot structure or function upon mobility limitations. We evaluated the associations of foot structure and foot function with mobility limitations in community-dwelling older men and women.
Methods: Framingham Foot Study participants (2002-2008) with performance measures of mobility limitations were included in this cross-sectional analysis. Mobility limitations was assessed using the Short Physical Performance Battery (SPPB), a composite of 3 timed performance tests (4-meter walk (s), chair stands (s), and balance test) with each test scored on a scale of 0 to 4 (total score range 0-12, higher score = better function).  Previously, SPPB scores have predicted physical limitations, disability and mortality.  We dichotomized SPPB as 1-9 to indicate mobility limitations and 10-12 as good mobility. We also examined quartiles of chair stand and walk time. Foot function while walking (pronated, supinated, normal) and weight-bearing arch structure (low, high, normal arch) were defined using a Tekscan matscan pressure system.  Age, sex, body mass index (BMI; <30, ≥30 kg/m2), current smoker (y/n) and depression (CES-D scale) were also obtained. Sex-specific multivariate logistic regression was used to calculate odds ratios (OR) and 95% confidence intervals (CI) for the association between foot structure and function with mobility limitations, adjusting for factors above.
Results:
In 556 men and 700 women, average age was 70 yrs (±10.8) and BMI was 28 (±5.2).  16% had mobility limitations, 30% had high arched and 27% had low arched foot structure; 33% had pronated and 27% had supinated foot function. Foot function was not associated with mobility limitations. In women only, low arched foot structure was associated with increased odds of mobility limitations (SPPB; OR=2.27, p=0.005) after adjustment (Table).  No associations were seen between foot structure or function and chair stand time (ORs= 0.8-1.1, all p>0.4).  In quartiles of walk time, men in the 3rd quartile, compared to the lowest (fastest), were less likely to have a high arch foot structure (OR=0.53) and supinated foot function (OR=0.51).  Women with a low arched foot were less likely to be in the 4th quartile (slowest walkers) compared to the fastest walkers and women with a pronated foot function were more likely to be in the 3rd quartile of walking speed compared to the fastest walkers.
  Conclusion: Specific components of foot structure and function were associated with mobility limitations in our study, albeit with inconsistent patterns between men and women.  Given these results, future work might examine specific regions of foot pressures and time-integral measures in order to drill down to biomechanical mechanisms.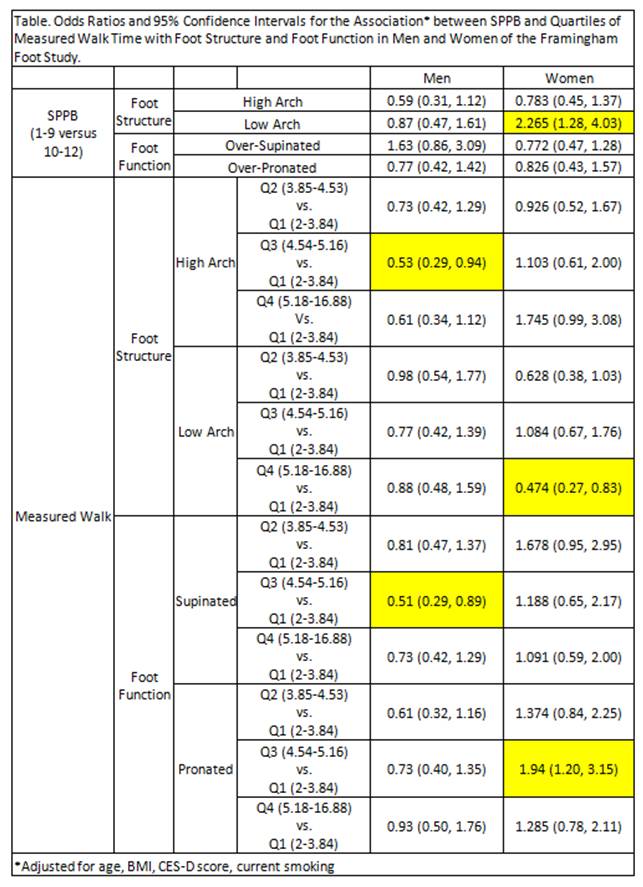 ---
Disclosure:
A. B. Dufour,
None;
P. P. Katz,
None;
Y. M. Golightly,
None;
A. Awale,
None;
M. T. Hannan,
None.
« Back to 2014 ACR/ARHP Annual Meeting
ACR Meeting Abstracts - https://acrabstracts.org/abstract/the-effect-of-foot-pain-on-mobility-disability-in-older-adults-the-framingham-foot-study/