Session Information
Session Type: Poster Session (Sunday)
Session Time: 9:00AM-11:00AM
Background/Purpose: Primary Sjӧgren's syndrome (pSS) is a female-predominant autoimmune disease with peak onset in perimenopause. pSS is characterized by severe ocular and oral sicca, leading to reduced quality of life and increased healthcare costs. Minor salivary glands are central to the diagnosis and prognosis of pSS. Although the exact pathogenesis of pSS remains unclear, focal lymphocytic infiltrate, and ultimately, fibrosis of the minor salivary gland, is a key feature of pSS.  Mesenchymal stromal cells (MSCs), a cell type with the potential to abrogate inflammation/fibrosis, have been isolated from human minor salivary glands but little is known of their immunobiology. We hypothesize that minor salivary gland-resident MSCs may play a role in pSS pathology. To test this idea, we culture adapted minor salivary gland MSCs and interrogated the hypothesis that treatment with interferon (IFN) γ will have altered immunobiology with and without estrogen treatment.
Methods: All pSS subjects (N=8) fulfilled ACR/EULAR criteria for pSS.  Control subjects (N=7) were referred for minor salivary gland biopsy but did not have features or diagnosis of autoimmune disease.  MSC cell lines were cultured from minor salivary glands were studied between passages 4 and 6.  MSC phenotype was assessed by morphology and flow cytometry using typical MSC surface markers (CD19-,CD45-,HLADR;CD105+,CD90+,CD73+).  Estrogen studies were performed on control MSC populations and culture was performed in phenol-free media using charcoal stripped fetal bovine serum.  Control MSCs (n=3) were pre-treated for 48 hours with 17 β-estradiol (0.1µM) in the presence or absence of IFN y (25 ng/mL). MSC activity was measured by flow cytometry median fluorescence intensity (MFI) of key mediators of MSC immunobiology including indoleamine 2,3-dioxygenase (IDO), programmed death ligand (PDL)1, and PDL2.
Results: 8 pSS and 7 control MSC cell lines were established with both morphologic and cell marker expression consistent with an MSC phenotype (Figure 1a & Figure 1b).  MSCs had minimal expression of CD45, CD19, and HLADR.  MSCs had high expression of CD105, CD73, and CD90.  Phenotypic cell marker expression did not vary between pSS and control MSCs (Figure 1c).  Control MSCs treated with IFNγ demonstrated increased expression of IDO, PDL1, and PDL2 (Figure 2a & Figure 2b).  Estrogen pretreatment did not affect expression of IDO, PDL1, or PDL 2 with or without IFNy licensing.
Conclusion: These results confirm the similarities of MSC phenotype between pSS and controls. Despite increased sicca symptoms around the time of menopause when estrogen is in flux, we did not find that estrogen impacted minor salivary gland MSC immunobiology.  Even in the setting IFNγ stimulated MSCs, simulating a high IFN SS-like environment, pulse estrogen exposure did not appear to modify expression of key MSC immunobiology markers. Future investigation will test whether long term pre-conditioning of MSC with estrogens leads to an altered immune plasticity response.

2019 ACR Figure 1_2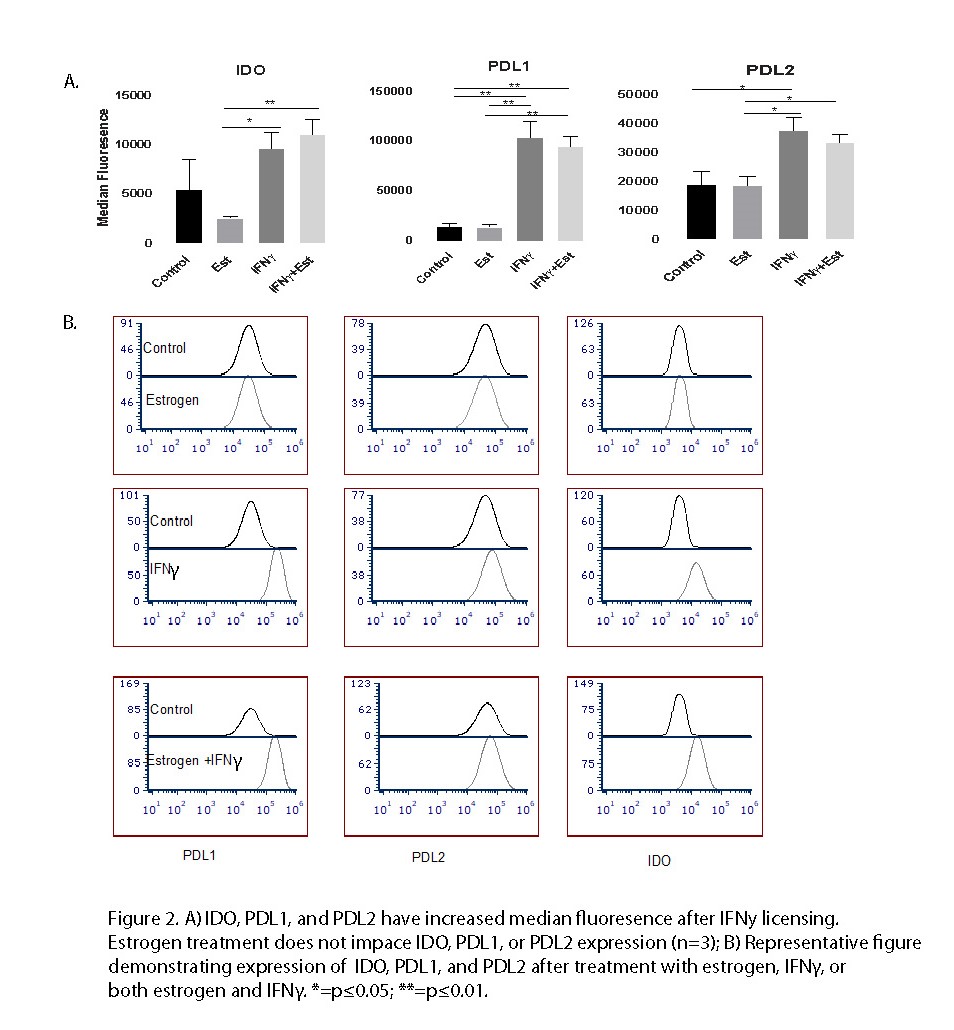 ACR MSC Figure2 FINAL
---
Disclosure: S. McCoy, None; J. Giri, None; J. Galipeau, Cambium medical technologies.
To cite this abstract in AMA style:
McCoy S, Giri J, Galipeau J. The Effect of Estrogen and Interferon γ on the Immunobiology of Minor Salivary Gland Mesenchymal Stromal Cells [abstract].
Arthritis Rheumatol.
2019; 71 (suppl 10). https://acrabstracts.org/abstract/the-effect-of-estrogen-and-interferon-%ce%b3-on-the-immunobiology-of-minor-salivary-gland-mesenchymal-stromal-cells/. Accessed July 8, 2020.
« Back to 2019 ACR/ARP Annual Meeting
ACR Meeting Abstracts - https://acrabstracts.org/abstract/the-effect-of-estrogen-and-interferon-%ce%b3-on-the-immunobiology-of-minor-salivary-gland-mesenchymal-stromal-cells/