Session Information
Session Type: ACR Poster Session C
Session Time: 9:00AM-11:00AM
Background/Purpose: The effect of biologic DMARDs on different juvenile idiopathic arthritis (JIA) categories is poorly understood. In patients (pts) with JIA aged 2–17 years (y), SC abatacept (ABA) was effective and well tolerated.1 Here, effectiveness and HRQoL of SC ABA in pts aged 2–17 y by JIA categories over 24 months (M) are presented. Methods: The design of this single-arm, two-cohort, open-label Phase III study (ClinicalTrials.gov, NCT01844518) has been described.1 Eligible pts with JIA received SC ABA (50, 87.5 or 125 mg by body-weight tier) weekly for 4M; JIA-ACR criteria 30% improvement (JIA-ACR30) responders at 4M could receive ABA for another 20M. Pre-specified analyses included JIA-ACR30, 50, 70, 90 and 100 responses and inactive disease (modified criteria)2 status. Post hoc analyses included Juvenile Arthritis Disease Activity Score on 27 joints (JADAS27-CRP) and proportion of pts with minimal clinically important difference (MCID) in Childhood HAQ-DI (CHAQ-DI; MCID −0.188)3 by JIA category (polyarticular [PA] RF positive (+), PA RF negative (−), extended oligoarthritis [EOA], systemic [SA], psoriatic [PsA], enthesitis-related [ERA], persistent oligoarthritis [POA] and undifferentiated [UA] JIA) and overall safety. Due to low pt numbers, separate data for SA, PsA, ERA, POA and UA were not interpreted; data were pooled for JADAS27-CRP. Results: In 219 treated pts, median (min, max) age was 11.0 (2.0, 17.0) y and disease duration was 1.0 (0.0, 15.0) y. Overall, 19.6% of pts discontinued over 24M with 10.0% discontinuing due to lack of efficacy. Data for SA, PsA, ERA, POA and UA are provided for completeness (Figs 1, 2). In PA RF+, PA RF− and EOA, pts responded early to SC ABA and showed robust JIA-ACR30 responses over time (4M: 80.5–96.6%). More stringent JIA-ACR50 (Fig 1), 70, 90 and 100 responses, inactive disease status and JADAS27-CRP (Fig 2) improved across these categories up to M4 and were sustained to M24; similar results were observed in a JADAS27-CRP pooled analysis of other categories. A trend for improvement in CHAQ-DI MCID was evident across categories (24M: 50.0–61.2%). No new/unexpected AEs were observed; a safety summary per age cohort over 24M was reported previously.1

Conclusion: In this analysis of pts aged 2–17 yrs with JIA, SC abatacept was effective and well tolerated and improved HRQoL across JIA categories over 24M.

References: 1. Brunner HI, et al. Arthritis Rheumatol 2018; doi: 10.1002/art.40466. 2. Wallace CA, et al. Arthritis Care Res (Hoboken) 2011;63:929–36. 3. Brunner HI, et al. J Rheumatol 2005;32:150–61. Medical writing assistance provided by Katerina Kumpan, PhD (Caudex), funded by Bristol-Myers Squibb.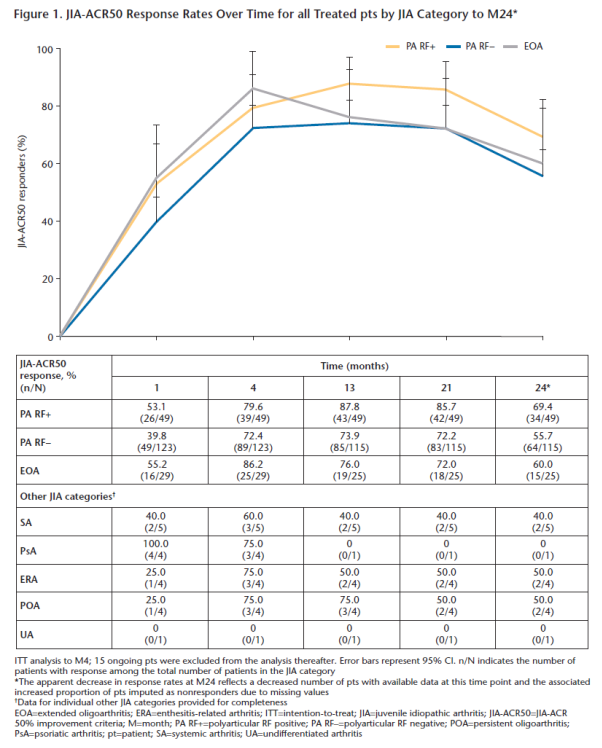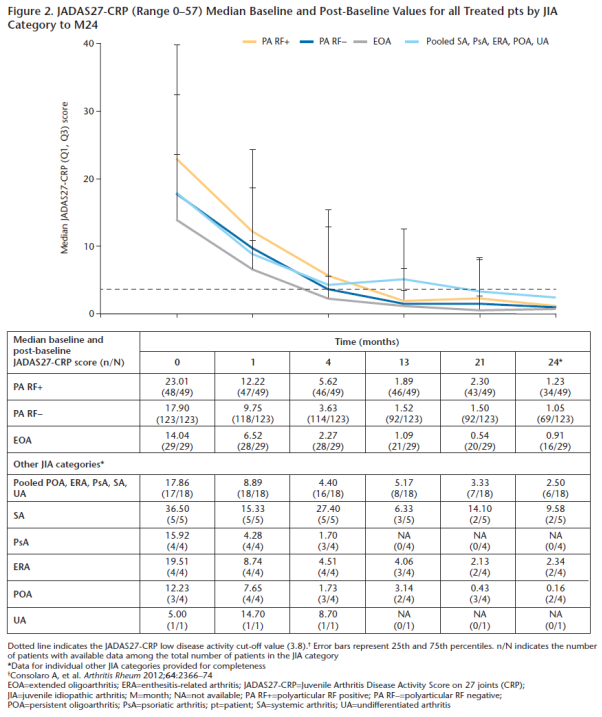 ---
Disclosure: N. Ruperto, Abbott, AbbVie, Amgen, Biogenidec, Astellas, Alter, AstraZeneca, Baxalta Biosimilars, Boehringer, Bristol-Myers Squibb, CD-Pharma, Celgene, CrescendoBio, EMD Serono, Hoffman-La Roche, Italfarmaco, Janssen, MedImmune, Medac, Novartis, Novo Nordisk, Pfizer, 8,Abbott, Bristol-Myers Squibb,, 2,Rewind Arms, R-Pharma, Sanofi-Aventis, Servier, Sinergie, Takeda, Vertex, UCB Biosciences GmbH, 8; H. I. Brunner, Novartis, Genentech, Pfizer, UCB, Lilly, Janssen, Ablynx, AbbVie, Bristol-Myers Squibb, EMD Serono, Astrazeneca, 5,Genentech and Novartis, 8; G. Vega-Cornejo, None; A. Berman, None; R. J. Cuttica, Abbvie, Bristol-Myers Squibb, Centocor, GSK, Lilly, Novartis, Pfizer, Roche, 5, 8; F. Ávila-Zapata, None; M. Henrickson, None; D. J. Kingsbury, None; J. F. Bohnsack, None; T. Lutz, None; N. E. Rubio-Pérez, None; V. Gerloni, None; X. Li, Bristol-Myers Squibb, 1, 3; M. Nys, Bristol-Myers Squibb, 1, 3; R. Wong, Bristol-Myers Squibb, 1, 3; A. Martini, None; D. J. Lovell, AstraZeneca, Bristol-Myers Squibb, AbbVie, Pfizer, Roche, Novartis, UBC, Forest Research Institute, Takeda, GlaxoSmithKline, Boehringer Ingelheim, Celgene, Janssen, Hoffmann-La Roche, Wyeth Pharma, Amgen, Abbott, 5,Wyeth Pharma, 8.
To cite this abstract in AMA style:
Ruperto N, Brunner HI, Vega-Cornejo G, Berman A, Cuttica RJ, Ávila-Zapata F, Henrickson M, Kingsbury DJ, Bohnsack JF, Lutz T, Rubio-Pérez NE, Gerloni V, Li X, Nys M, Wong R, Martini A, Lovell DJ. Subcutaneous Abatacept in Patients Aged 2–17 Years with Juvenile Idiopathic Arthritis and Inadequate Response to Biologic or Non-Biologic Disease-Modifying Antirheumatic Drugs: Results over 24 Months By Juvenile Idiopathic Arthritis Disease Category [abstract].
Arthritis Rheumatol.
2018; 70 (suppl 10). https://acrabstracts.org/abstract/subcutaneous-abatacept-in-patients-aged-2-17-years-with-juvenile-idiopathic-arthritis-and-inadequate-response-to-biologic-or-non-biologic-disease-modifying-antirheumatic-drugs-results-over-24/. Accessed October 28, 2021.
« Back to 2018 ACR/ARHP Annual Meeting
ACR Meeting Abstracts - https://acrabstracts.org/abstract/subcutaneous-abatacept-in-patients-aged-2-17-years-with-juvenile-idiopathic-arthritis-and-inadequate-response-to-biologic-or-non-biologic-disease-modifying-antirheumatic-drugs-results-over-24/