Session Information
Session Type: ACR Poster Session A
Session Time: 9:00AM-11:00AM
Background/Purpose:
Enteropathic spondyloarthritis
(ES) are included in the group of the spondyloarthritis (SpA). Because
articular involvement is the most frequent extra-intestinal manifestation in patients
with inflammatory bowel diseases (IBD), the coexistence of gut and articular
inflammation advocates an integrated approach for the clinical management of these
patients in clinical practice (Olivieri I. et al. Autoimmun Rev 2014,
8:822-30).
We carried out a clinical
study, henceforth defined SPIB (SPondyloarthritis in Inflammatory
Bowel disease), in the outpatient clinics and in the clinical ward of
the gastroenterology and internal medicine departments, having the following
end-points; a) the early diagnosis of ES; b) the evaluation of the quality of
life before and after therapeutic integrated approach.
Methods:
From January, 2014 to January
2015, 198 consecutive IBD pts were screened; 48 refused to participate to the
study and 154 were evaluated at baseline and after 6 and 12 months for gastrointestinal
symptoms and activity, patient-reported outcomes of the quality of life and rheumatologic
symptoms (Fig.1, table I). Upon a gastroenterologist and rheumatologist
evaluation, the therapeutic strategy was chosen in concert based on
gastrointestinal and joint disease activity, and the presence of peripheral
and/or axial involvement of the joints.
Results:
65 (33,6%) of the 154 pts complained
of articular symptoms and in 51 of 65 (25,8% of all IBD pts) an active enteropathic
SpA (ES) was diagnosed. Peripheral arthritis was present in 23 pts (45%) and axial
involvement in 28 pts (55%). Articular symptoms had been present for 5±4,9 yrs in 51% of the ES pts. The quality
of life in the cohort of ES pts, compared to that of IBD pts, was significantly
worsened by articular symptoms (Fig.1A). At baseline, 20 ES pts were treated
with methotrexate, 2 with salazopyrine, 5 with infliximab, and 23 with
adalimumab.
After 12 months of treatment, 90%
of the ES pts reported a significant improvement in their quality of life
(Fig.1B). A significant improvement of both gastrointestinal (Fig.1B) and
articular disease (Fig.1C) was achieved in 88% of the patients, mostly in pts receiving
anti-TNF-alfa drugs.
Conclusion:
The early diagnosis of enteropathic spondyloarthritis and the choice of the optimal
therapeutic strategy constitute a novel major topic in clinical practice (Olivieri I. et al. Autoimmun
Rev 2014, 8:822-30).
Our study reinforces the importance
of an integrated clinical evaluation of ES pts carried out by the gastroenterologist and
rheumatologist, for
a correct diagnosis and the choice of the optimal therapeutic strategy.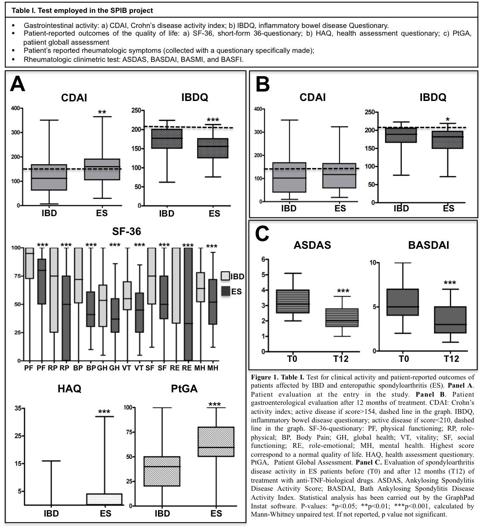 ---
Disclosure: C. Avellini, None; L. Bolognini, None; A. Farinelli, None; M. Ciferri, None; G. Gambacorta, None; D. Benfaremo, None; S. Cedraro, None; M. Rossini, None; W. Capeci, None; L. Manfredi, None; L. Postacchini, None; G. Fava, None; P. Mosca, None; G. Pomponio, None; M. M. Luchetti, None; A. Gabrielli, None.
To cite this abstract in AMA style:
Avellini C, Bolognini L, Farinelli A, Ciferri M, Gambacorta G, Benfaremo D, Cedraro S, Rossini M, Capeci W, Manfredi L, Postacchini L, Fava G, Mosca P, Pomponio G, Luchetti MM, Gabrielli A. Patient Reported Outcomes and Assessment of the Quality of Life in a Cohort of Patients Affected By Enteropathic Spondyloarthritis: Definitive Results of a Monocentric Prospective Observational Study at One Year [abstract].
Arthritis Rheumatol.
2015; 67 (suppl 10). https://acrabstracts.org/abstract/patient-reported-outcomes-and-assessment-of-the-quality-of-life-in-a-cohort-of-patients-affected-by-enteropathic-spondyloarthritis-definitive-results-of-a-monocentric-prospective-observational-study/. Accessed September 19, 2021.
« Back to 2015 ACR/ARHP Annual Meeting
ACR Meeting Abstracts - https://acrabstracts.org/abstract/patient-reported-outcomes-and-assessment-of-the-quality-of-life-in-a-cohort-of-patients-affected-by-enteropathic-spondyloarthritis-definitive-results-of-a-monocentric-prospective-observational-study/