Session Information
Session Type: ACR Poster Session C
Session Time: 9:00AM-11:00AM
Mental Health Care for Adolescents with Rheumatologic Conditions: Perspectives from Pediatric Behavioral Health Providers in North America
Andrea Knight
1
, Michelle Vickery
1
, Natalie Stollon
1
,
Eyal Muscal2,

Alaina

Davis3, Julia Harris4, Aimee Hersh5, Martha Rodriguez6, Karen Onel6, Laura E. Schanberg7, Tamar Rubinstein8, Beth S. Gottlieb9, Nina Washington10,

Elissa

Weitzman11, Emily von Scheven12 and for the CARRA Investigators
1
Children's Hospital of Philadelphia,
2
Baylor College of Medicine, Texas Children's Hospital,
3
Vanderbilt University School of Medicine, Monroe
Carell Junior Children's Hospital, 4University of Missouri-Kansas City, ChildrenÕs Mercy Hospital, 5University of Utah, 6University of Chicago, 7Duke University Medical Center, 8Albert Einstein College of Medicine, Children's Hospital at Montefiore, 9The Steven and Alexandra Cohen Children's Medical Center of New York, The Hofstra North Shore-LIJ School of Medicine, 10University of Mississippi Medical Center, 11Harvard University, Boston ChildrenÕs Hospital, 12University of California San Francisco
Background/Purpose: Mental health problems are common, but under-treated in adolescents with rheumatologic conditions. To identify gaps in mental health care, we examined perspectives from behavioral health providers working with adolescents in pediatric rheumatology clinics.
Methods: We surveyed social workers and psychologists at centers in the Childhood Arthritis and Rheumatology Research Alliance (CARRA) with recent clinical experience (past 5 years) in pediatric rheumatology. The online survey assessed participant demographics, practices and beliefs for mental health care of adolescents with lupus (SLE), juvenile idiopathic arthritis (JIA), or juvenile dermatomyositis (JDM). Participants rated the frequency of 15 barriers to mental health screening and 18 barriers to treatment on a 4-point Likert scale. Social workers ranked their activities by current and desired amount of time spent (most to least) on: care coordination, school, mental health, disease education, general resources, and medical insurance. Case examples elicited comparative rankings of these activities for 3 exemplary adolescents with SLE, JIA or JDM; 2-way ANOVA was used to test for differences.
Results: Only 45% of CARRA centers had an eligible social worker or psychologist. Of 60 providers contacted, 31 (52%) responded. After exclusions (3 incomplete and 2 non-clinical), 26 responses from 21 social workers and 5 psychologists at mostly US university-based (88%) and urban (77%) centers were analyzed. All reported that screening for depression and anxiety should be routine for adolescents with JIA/SLE/JDM, but none reported it as current practice. Of 11 (42%) reporting screening of selected patients, only 3 used a validated screening tool. Eleven (42%) reported that their practice lacked a follow-up plan after mental health referral. Figure 1 shows the most frequent barriers to mental health care. Social workers spent most of their time addressing mental health for adolescents with SLE (p=0.03), in contrast to school issues for those with JIA and JDM (p=0.06) (Figure 2). Overall, 8 (38%) social workers desired more time for mental health, and 6 (23%) for disease education, and 20 (76%) had high interest in providing mental health interventions.
Conclusion: Many pediatric rheumatology centers lack behavioral health providers despite known mental health burden in their patients. Implementation of policies for routine screening and follow-up on referrals, as well as utilization of social workers to provide mental health intervention may improve mental health care for adolescents with rheumatologic conditions.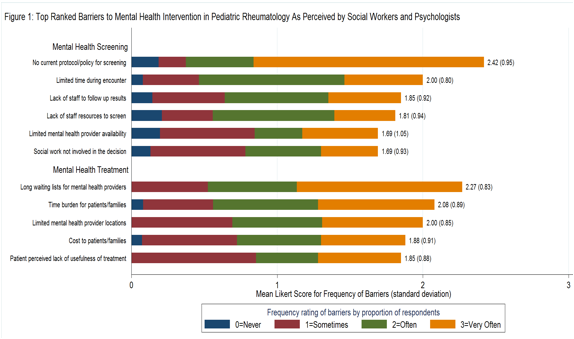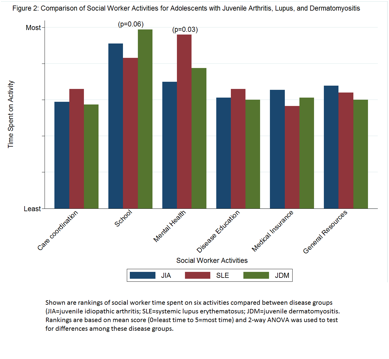 ---
Disclosure: A. Knight, None; M. Vickery, None; E. Muscal, None; A. Davis, None; J. Harris, None; A. O. Hersh, None; M. Rodriguez, None; K. Onel, None; L. Schanberg, None; T. Rubinstein, Lupus Foundation of America, 2; B. S. Gottlieb, None; N. Washington, None; E. Weitzman, None; E. Von Scheven, None.
To cite this abstract in AMA style:
Knight A, Vickery M, Muscal E, Davis A, Harris J, Hersh AO, Rodriguez M, Onel K, Schanberg L, Rubinstein T, Gottlieb BS, Washington N, Weitzman E, Von Scheven E. Mental Health Care for Adolescents with Rheumatologic Conditions: Perspectives from Pediatric Behavioral Health Providers in North America [abstract].
Arthritis Rheumatol.
2016; 68 (suppl 10). https://acrabstracts.org/abstract/mental-health-care-for-adolescents-with-rheumatologic-conditions-perspectives-from-pediatric-behavioral-health-providers-in-north-america/. Accessed January 28, 2022.
« Back to 2016 ACR/ARHP Annual Meeting
ACR Meeting Abstracts - https://acrabstracts.org/abstract/mental-health-care-for-adolescents-with-rheumatologic-conditions-perspectives-from-pediatric-behavioral-health-providers-in-north-america/