Session Information
Session Type: Poster Session A
Session Time: 8:30AM-10:30AM
Background/Purpose: Anti-tRNA synthetase syndrome (ARS) is a severe systemic autoimmune disease associated with myositis, interstitial lung disease, rash, and arthritis. ARS is associated with autoantibodies towards the tRNA synthetases, the most common being anti-histidyl tRNA synthetase (Jo-1). We previously showed Jo-1-binding B cells (JoBCs) isolated from Jo-1 autoantibody+ (Jo-1 ARS) patients are skewed towards a non-class-switched B cell subset that has phenotypic features of autoreactive-prone memory B cells. Mutated JoBC B cell receptors (BCRs), which dictate antigen specificity, would imply a requirement for T cell selection, whereas germline BCRs would point to T cell-independent mechanisms of JoBC expansion. Our objective was to define BCR V gene usage and mutation among BCRs expressed by JoBCs and determine phenotypic and BCR repertoire features of highly expanded B cell clones in ARS patients.
Methods: We applied human hybridoma technology to identify Jo-1 autoantigen-binding B cells. Additionally, single-cell, tandem RNAseq/BCRseq and a modified Seurat and IMGT/HighVQUEST-based pipeline was used to identify and analyze expanded B cell clones isolated from Jo-1 ARS, non-Jo-1 ARS, and healthy control peripheral blood (n=5 donors per group). BCR gene structure and phenotypic attributes were determined.
Results: JoBC hybridoma clones expressed germline and mutated BCRs. VH4-34 and VH3-21 were identified among JoBC hybridomas as well as clonally expanded B cells in our single-cell dataset isolated from distinct donors. Clonally-expanded B cells were biased towards memory and plasmablast subsets in both Jo-1 ARS and non-Jo-1 ARS patients. The majority of Jo-1 ARS expanded clones were not class-switched, whereas IgG and IgA class-switched clones were more predominant in non-Jo-1 ARS.
Conclusion: These data suggest B cell clones can expand, enter memory, and differentiate into plasmablasts prior to class-switching, particularly in Jo-1 ARS patients. Our approaches to identify autoantigen-specific and clonally-expanded B cells could be used to track B cell perturbations as correlates of conventional or experimental immune therapy responsiveness. Improved monitoring of deleterious expansion of autoantigen-specific B cells could improve disease management in ARS patients and other rheumatic diseases. Germline VH4-34 cross-reacts with commensal bacteria, providing a potential mechanism for JoBC immune tolerance breach prior to somatic hypermutation and T cell selection.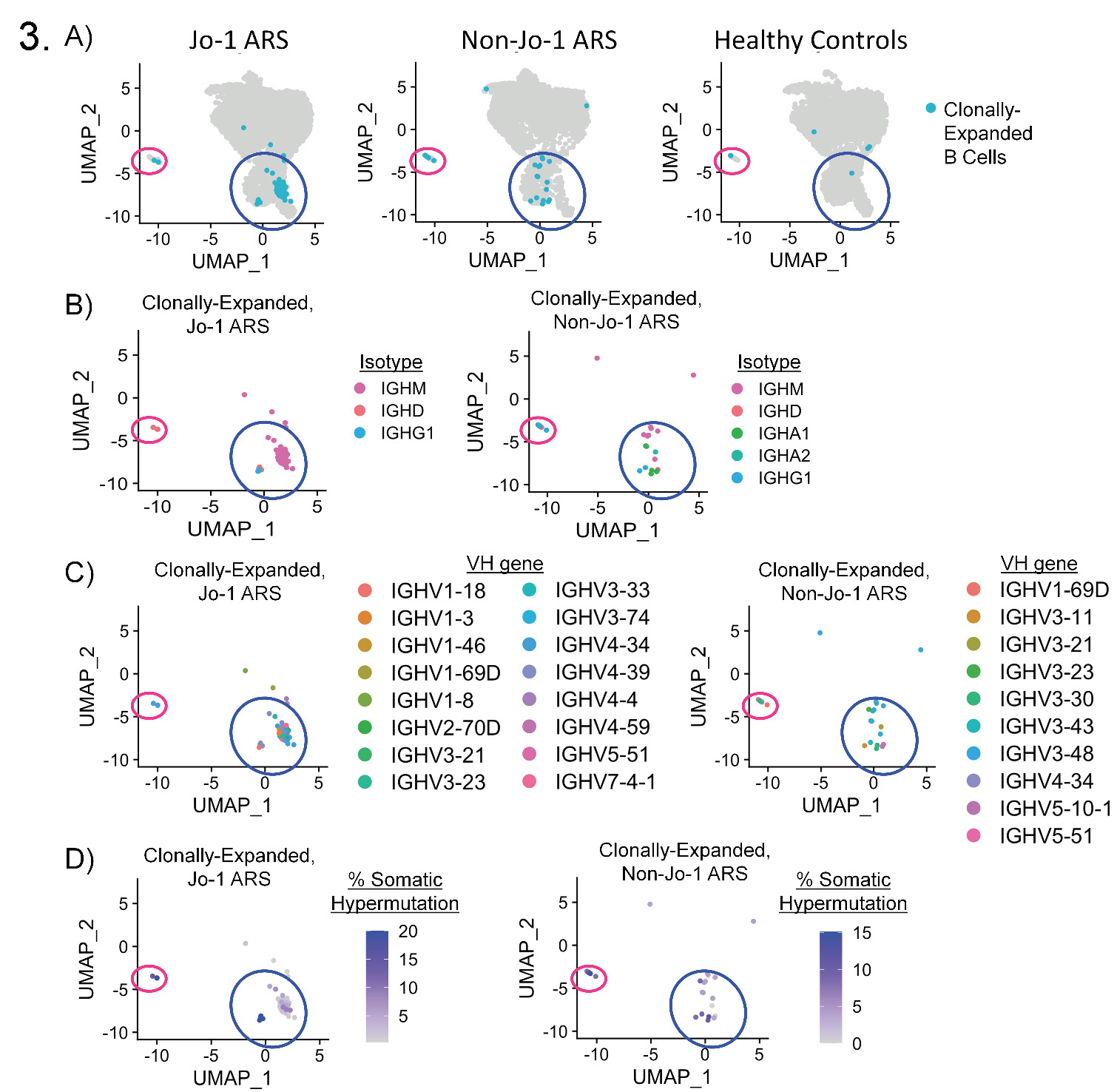 ---
Disclosures: E. Wilfong, Boehringer-Ingelheim, 1, 5; A. Cisneros, None; J. Young-Glazer, None; S. Smith, None; L. Crofford, Boehringer-Ingelheim, 5, UpToDate, 9; R. Bonami, Boehringer-Ingelheim, 5.
To cite this abstract in AMA style:
Wilfong E, Cisneros A, Young-Glazer J, Smith S, Crofford L, Bonami R. Jo-1-Binding and Clonally-Expanded Memory B Cells Express Germline and Somatically-Mutated B Cell Receptors in Anti-tRNA Synthetase Syndrome Patients [abstract].
Arthritis Rheumatol.
2021; 73 (suppl 10). https://acrabstracts.org/abstract/jo-1-binding-and-clonally-expanded-memory-b-cells-express-germline-and-somatically-mutated-b-cell-receptors-in-anti-trna-synthetase-syndrome-patients/. Accessed December 9, 2021.
« Back to ACR Convergence 2021
ACR Meeting Abstracts - https://acrabstracts.org/abstract/jo-1-binding-and-clonally-expanded-memory-b-cells-express-germline-and-somatically-mutated-b-cell-receptors-in-anti-trna-synthetase-syndrome-patients/