Session Information
Session Type: Late-Breaking Abstract Poster Session
Session Time: 9:00AM-11:00AM
Background/Purpose: MAS is a severe complication of rheumatic diseases, most frequently sJIA and adult-onset Still's disease. It is characterized by fever, hepatosplenomegaly, liver dysfunction, cytopenias, coagulation abnormalities and hyperferritinemia, potentially progressing to multiple organ failure and death. MAS is classified among the secondary forms of HLH. Overproduction of IFNγ is a major driver of hyperinflammation/hypercytokinemia in several MAS and HLH murine models. We assessed efficacy, safety and timing of response of clinical and laboratory parameters of the neutralizing IFNg monoclonal antibody emapalumab in patients with MAS.
Methods: In a pilot open-label single-arm international study (NCT03311854), patients with MAS (defined according to the 2016 criteria), on a background of sJIA and inadequate response to high-dose glucocorticoids, received emapalumab (first dose: 6 mg/kg; subsequent doses: 3 mg/kg twice weekly) for a total of 4 weeks or less upon achievement of complete response (CR). Serum concentrations of the IFNg-induced chemokine CXCL9 and of sIL2R were measured. Safety assessments included adverse events and laboratory abnormalities. CR (week 8) was defined as absence of MAS clinical signs AND white blood cell and platelet counts above lower limit of normal, LDH, AST/ ALT< 1.5 x upper limit of normal, fibrinogen >100 mg/dL, and ferritin decreased by >80% or to < 2000 ng/mL, whichever was lower. Twin protocols (minimum 5 patients each) are in place in Europe and North America. We report on the first 6 patients recruited in Europe; subsequently 2 additional patients recruited in the US and 1 in Europe.
Results: Six patients (4 females, median age 11 years, range: 2-25 years), who had failed methylprednisolone (in 2 patients plus cyclosporine A (CsA) and in 2 patients plus CsA and anakinra) received emapalumab (Table 1). CXCL9 showed initial substantial decrease between day 2 and 5, showing rapid IFNg neutralization (Table 2). In all patients but one (who presented a single measurement of 37.6 at SD 21) fever resolved (< 37.5) within 3 days. These effects were followed by progressive improvement in all MAS clinical and laboratory parameters (Table 3). CR was achieved in all patients after a median of 23.8 (18-55) days. Glucocorticoids were tapered in all patients (median % tapering -92%, range -45-98% at week 8). Emapalumab was well tolerated; no patient discontinued emapalumab. A CMV reactivation, reported as a serious event possibly related to emapalumab, resolved with treatment.
Conclusion: All 6 patients receiving emapalumab achieved CR. Progressive improvement and subsequent normalization of all clinical and laboratory parameters occurred following rapid and sustained CXCL9 decrease.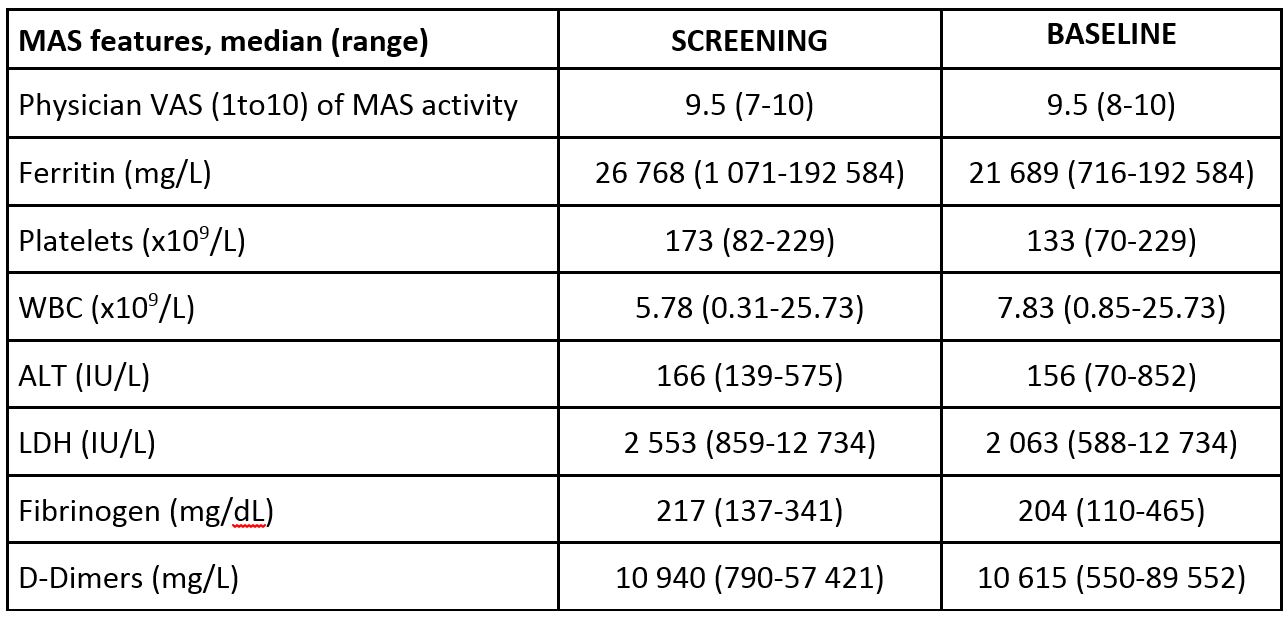 ---
Disclosure: F. De Benedetti, AbbVie, 2, BMS, 2, Novartis, 2, Novartis, Novimmune, Hoffmann- La Roche, SOBI, AbbVie, Pfizer, 2, Novimmune, 2, Pfizer, 2, Roche, 2, Sanofi, 2, Sobi, 2, Swedish Orphan Biovitrum, 2, UCB, 2; P. Brogan, None; A. Grom, AB2 Bio Ltd, 2, 5, AB2Bio, 2, 5, Children's Hospital Medical Center, 3, Novartis, 2, 5, Novartis Pharmaceuticals Corporation, 2, 5, Novartis Pharmaceuticals Corporations, 5, NovImmune, 2, 5, Novimmune, 2, 5; P. Quartier, AbbVie, 5, 8, Bristol-Myers Squibb, 5, 8, Chugai-Roche, 5, 8, Lilly, 5, Novartis, 5, 8, Novimmune, 5, Pfizer, 5, 8, Sanofi, 9, Swedish Orphan Biovitrum, 5, 8; R. Schneider, Novimmune, 5, Sobi, 5, Novartis, 5; J. Antón, AbbVie, 2, Bristol-Myers Squibb, 2, Gebro, 2, GlaxoSmithKline, 2, Novartis, 2, Novimmune, 2, Pfizer, 2, Roche, 2, Sobi, 2; C. Bracaglia, None; M. Pardeo, None; G. Marucci, None; E. Sacco, None; D. Eleftheriou, roche, 1, sobi, 1, Pfizer, 1; C. Papadopoulou, None; P. Jacqmin, SOBI AG, 1; m. ballabio, SOBI AG, 1; C. de Min, SOBI AG, 1.
To cite this abstract in AMA style:
De Benedetti F, Brogan P, Grom A, Quartier P, Schneider R, Antón J, Bracaglia C, Pardeo M, Marucci G, Sacco E, Eleftheriou D, Papadopoulou C, Jacqmin P, ballabio m, de Min C. Interferon-gamma (IFN-γ) Neutralization with Emapalumab and Time to Response in Patients with Macrophage Activation Syndrome (MAS) Complicating Systemic Juvenile Idiopathic Arthritis (s-JIA) who failed High-Dose Glucocorticoids [abstract].
Arthritis Rheumatol.
2019; 71 (suppl 10). https://acrabstracts.org/abstract/interferon-gamma-ifn-%ce%b3-neutralization-with-emapalumab-and-time-to-response-in-patients-with-macrophage-activation-syndrome-mas-complicating-systemic-juvenile-idiopathic-arthritis-s-jia-who/. Accessed November 26, 2022.
« Back to 2019 ACR/ARP Annual Meeting
ACR Meeting Abstracts - https://acrabstracts.org/abstract/interferon-gamma-ifn-%ce%b3-neutralization-with-emapalumab-and-time-to-response-in-patients-with-macrophage-activation-syndrome-mas-complicating-systemic-juvenile-idiopathic-arthritis-s-jia-who/