Session Information
Session Type: ACR Plenary Session
Session Time: 11:00AM-12:30PM
Background/Purpose: Denosumab 60 mg subcutaneously every 6 months (Q6M) increased spine and hip BMD significantly more than risedronate 5 mg orally once daily (QD) at 12 months in glucocorticoid-treated subjects (as previously reported1). This analysis compared the BMD effects of denosumab vs risedronate and further characterized denosumab safety in this population at 24 months.
Methods: This phase 3, randomized, double-blind, double-dummy study enrolled adults ≥18 years receiving ≥7.5 mg daily prednisone (or equivalent) for <3 months (glucocorticoid-initiating subpopulation) or ≥3 months (glucocorticoid-continuing subpopulation). All subjects <50 years had to have a history of osteoporotic fracture. Glucocorticoid-continuing subjects ≥50 years had to have a lumbar spine, total hip, or femoral neck BMD T-score ≤–2.0, or ≤–1.0 and a history of fracture. Subjects were randomized 1:1 to denosumab 60 mg subcutaneously Q6M or risedronate 5 mg orally QD for 24 months. This analysis assessed denosumab superiority over risedronate for percentage change from baseline in lumbar spine and total hip BMD at 24 months.
Results: Of 795 randomized subjects, 590 (74.2%) completed the 24-month study (glucocorticoid-initiating: 109/145 denosumab, 117/145 risedronate; glucocorticoid-continuing: 186/253 denosumab, 178/252 risedronate). Denosumab was superior to risedronate for increases from baseline in lumber spine and total hip BMD at all timepoints assessed through 24 months in each subpopulation (Figure). Adverse events, serious adverse events (including infection), and fractures were similar between groups.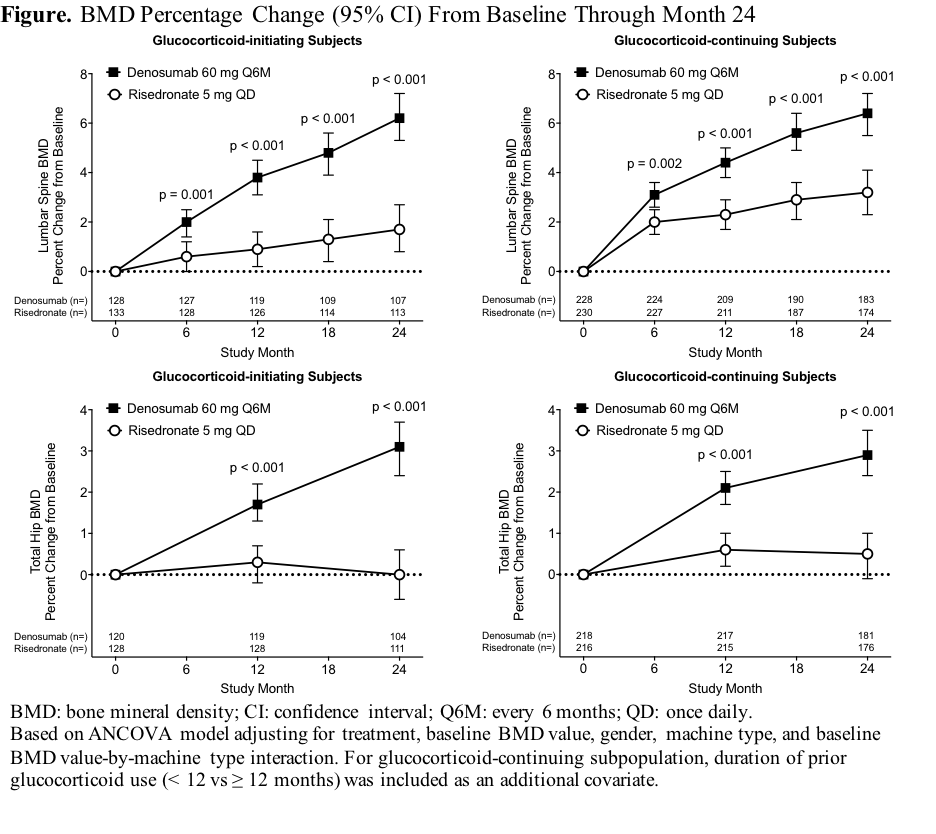 Conclusion: Denosumab was superior to risedronate for increases in spine and hip BMD through 24 months. The overall safety profile was similar between groups. Denosumab may offer a valuable osteoporosis treatment option for patients receiving glucocorticoids.
Reference: 1. Saag KG, et al. Denosumab versus risedronate in glucocorticoid-induced osteoporosis: a multicentre, randomised, double-blind, active-controlled, double-dummy, non-inferiority study. Lancet Diabetes Endocrinol. 2018: DOI: 10.1016/S2213-8587(1018)30075-30075.
---
Disclosure: K. Saag, Amgen Inc., 2, 5,Merck & Co., 2, 5,Lilly, 5,Radius, 5; N. Pannacciulli, Amgen Inc., 1, 3; P. Geusens, Amgen Inc., 2, 5,Lilly, 2, 5,Abbott, 2,Bristol-Myers Squibb, 2,Celgene Corporation, 2,Janssen, 2,Merck & Co., 2,Novartis, 2,Pfizer, Inc., 2,Roche, 2,UCB, 2,Will Pharma, 2; J. D. Adachi, Amgen Inc., 2, 5, 8,McMaster University, 3; O. D. Messina, None; J. Morales-Torres, Amgen Inc., 5, 8; R. Emkey, Amgen Inc., 5, 8; P. W. Butler, Amgen Inc., 1, 3; X. Yin, Amgen Inc., 1, 3; W. F. Lems, Amgen Inc., 5, 8,Merck & Co., 5, 8,Eli Lilly, 5, 8.
To cite this abstract in AMA style:
Saag K, Pannacciulli N, Geusens P, Adachi JD, Messina OD, Morales-Torres J, Emkey R, Butler PW, Yin X, Lems WF. Greater BMD Gains with Denosumab Vs Risedronate in Glucocorticoid-Treated Subjects: Results from the Final 24-Month Analysis of a Randomized, Double-Blind, Double-Dummy Study [abstract].
Arthritis Rheumatol.
2018; 70 (suppl 9). https://acrabstracts.org/abstract/greater-bmd-gains-with-denosumab-vs-risedronate-in-glucocorticoid-treated-subjects-results-from-the-final-24-month-analysis-of-a-randomized-double-blind-double-dummy-study/. Accessed October 3, 2022.
« Back to 2018 ACR/ARHP Annual Meeting
ACR Meeting Abstracts - https://acrabstracts.org/abstract/greater-bmd-gains-with-denosumab-vs-risedronate-in-glucocorticoid-treated-subjects-results-from-the-final-24-month-analysis-of-a-randomized-double-blind-double-dummy-study/