Session Information
Session Type: Poster Session (Monday)
Session Time: 9:00AM-11:00AM
Background/Purpose: Adult-onset Still's disease (AOSD) is a rare auto-inflammatory condition characterized by fever, arthritis, skin rash, and multi-organ inflammation. The pathogenesis of AOSD is centrally mediated by the pro-inflammatory cytokine interleukin (IL)-1β; anakinra, a recombinant inhibitor of the IL-1β receptor, has long represented the cornerstone of biologic therapy for AOSD. More recently, a new agent blocking IL-1β has also entered the clinical arena, that is, the monoclonal antibody canakinumab. Here, we describe the use of canakinumab both as first-line and rescue IL-1 blocker in 10 patients with AOSD, and report the highly promising results of this treatment approach.
Methods: Detailed clinical information were retrospectively retrieved for AOSD patients followed up in our Rheumatology Unit and treated with canakinumab. Information pertained to: disease duration; clinical features; AOSD course; previous and concomitant treatment with conventional synthetic DMARD or biologic agents; levels of inflammatory markers (ESR, CRP, and ferritin); dose of corticosteroid therapy before and after canakinumab initiation. Changes in these parameters upon canakinumab treatment were recorded, and statistical significance of differences evaluated with non-parametric tests. A p-value < 0.05 was considered significant.
Results: Ten patients with severe AOSD received canakinumab 300 mg 4 weekly following failure of conventional treatment with corticosteroids, DMARDs, or anakinra. Detailed clinical features and responses to therapy are reported in Table 1. Median AOSD duration at the time of canakinumab initiation was 36.5 months (range 18-65); median follow-up after canakinumab initiation was 9 months (4-18). Five patients received canakinumab as first-line biologic agent, whereas five patients received it following failure of anakinra. Regardless of previous treatment status, canakinumab treatment led to rapid clinical responses; in 6 out of 10 patient this clinical response was complete. Resolution of fever and skin rash was followed by progressive improvement in arthritis. Inflammatory organ involvement (i.e. pericardial inflammation) also resolved. Efficacy on clinical manifestations was mirrored by significant reductions in serum pro-inflammatory markers CRP, ESR, and ferritin. Sustained efficacy allowed for discontinuation or tapering of corticosteroid or DMARD therapy. 
Conclusion: Biologic therapy of AOSD with canakinumab was associated with rapid and marked clinical responses, leading to substantial clinical amelioration in all patients and allowing for robust steroid-sparing effects. Earlier use was associated with optimal responses, but treatment with canakinumab was also effective in difficult-to-treat patients following failure of IL-1 receptor blockade with anakinra.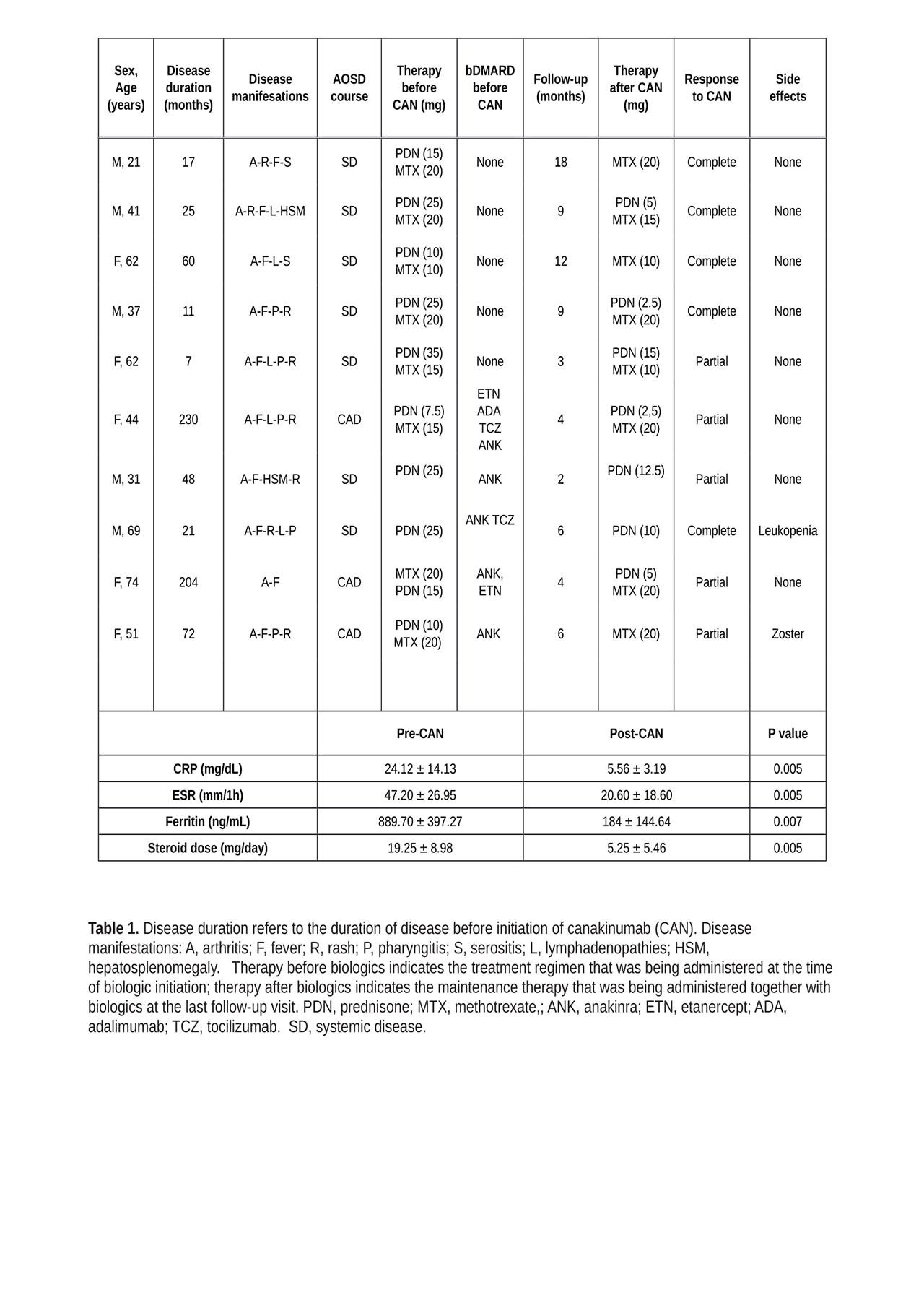 ---
Disclosure: C. Campochiaro, GSK, 8, GSK, SOBI, Pfizer, 5, 8, Pfizer, 8, SOBI, 5; A. Tomelleri, None; D. Giacomo, GSK, 8, Pfitzer, 8, SOBI, 5, SOBI, Novartis, SOBI, Pfizer, 5, 8; N. Farina, None; E. Baldissera, Sobi, 8, Sanofi, 5, Roche, 8, Pfizer, 8, Novartis, 8, Abbvie, 8, Alfa-sigma, 8; G. Cavalli, SOBI, Novartis, Pfizer, 5, 8; L. Dagna, Abbvie, Amgen, Biogen, Bristol-Myers Squibb, Celltrion, Novartis, Pfizer, Sanofi-Genzyme, and SOBI., 5, 8.
To cite this abstract in AMA style:
Campochiaro C, Tomelleri A, Giacomo D, Farina N, Baldissera E, Cavalli G, Dagna L. Efficacy of Canakinumab Treatment in Adult-onset Still's Disease [abstract].
Arthritis Rheumatol.
2019; 71 (suppl 10). https://acrabstracts.org/abstract/efficacy-of-canakinumab-treatment-in-adult-onset-stills-disease/. Accessed January 28, 2022.
« Back to 2019 ACR/ARP Annual Meeting
ACR Meeting Abstracts - https://acrabstracts.org/abstract/efficacy-of-canakinumab-treatment-in-adult-onset-stills-disease/