Session Information
Session Type: ACR Poster Session C
Session Time: 9:00AM-11:00AM
Background/Purpose:
Gout is a common and very painful form of arthritis triggered by deposits of monosodium
urate (MSU) crystals in the joints.
Lifestyle factors such as dietary intake trigger gout flares, but trauma and surgery also induce gout attacks. Systemic non-steroidal or steroidal anti-inflammatory therapies are unsuitable to treat postsurgical gout flares due to their side effects. Postsurgical gout flares typically involve previously affected joints and develop within 8 days after surgery. These features make it ideal for a local, safe prophylactic therapeutic option.
Thus, we developed a prophylactic therapeutic system of
activatable particles, which would release the drug of interest only under inflammation exposure, minimizing the amount of drug required to control inflammation and circumventing collateral damage to healthy tissues (Fig. 1). This pH sensitive release system of glucocorticoid-loaded

microparticles

could be prophylactically injected in the joint at risk.
Methods:
Acetalation
of dextran (

AcDex

, 10kDa) was determined by NMR
(64%), and 3-5mM particles were formulated by electrospray.
The signal of these particles is Òturned onÓ upon exposure to acidic pH
, which reveals
hydroxyl groups and thus increases the materialÕs

hydrophilicity

. After the hydrophobicity switch, drug diffuses out the polymer matrix.
Dexamethasone
palmitate (DXM-P) release was analyzed by LC-MS under different

pH.

Bone-marrow

derived macrophages (BMDM) were treated prophylactically for up to 48hrs.

with

either free DXM-P, DXM-P loaded into

AcDex

particles, or DXM-P loaded into the slow-release FDA-approved

poly(lactic-co-glycolic acid;

PLGA) particles and then stimulated with LPS (100ng/ml) and MSU (0.25mg/ml) overnight.

Cytokine amounts were determined by ELISA

in BMDM supernatants. We also used an air-pouch model of MSU-induced inflammation to test the particles. We administered either free DXM-P or DXM-P-loaded

AcDex

particles 24 hrs.

before

MSU (3mg) injection in the pouch. Cell count was determined after pouch lavage.
Results:
The release of DXM-P from
AcDex particles increased in lower pH, confirming their responsiveness.
Prophylactic treatment in vitro of BMDM with DXM-P-loaded

AcDex particles up to 48 hrs.

before

MSU stimulation, significantly reduced IL-1
b, TNFα and IL-6 cytokine production compared to both free drug and slow release PLGA-particles.
In vivo
, DXM-P loaded particles significantly reduced cell infiltration in the air pouch when prophylactically injected 24 hrs. before MSU injection.
Conclusion:
We have successfully developed a prophylactic option to prevent acute gout flares in post-surgical patients.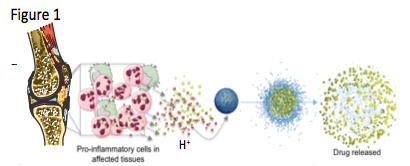 ---
Disclosure: A. Stubelius, None; W. Sheng, None; S. Lee, None; A. Almutairi, None; M. Guma, None.
To cite this abstract in AMA style:
Stubelius A, Sheng W, Lee S, Almutairi A, Guma M. Bioresponsive Glucocorticoid-Loaded Microparticles to Prevent Acute Gout Flares [abstract].
Arthritis Rheumatol.
2016; 68 (suppl 10). https://acrabstracts.org/abstract/bioresponsive-glucocorticoid-loaded-microparticles-to-prevent-acute-gout-flares/. Accessed December 3, 2021.
« Back to 2016 ACR/ARHP Annual Meeting
ACR Meeting Abstracts - https://acrabstracts.org/abstract/bioresponsive-glucocorticoid-loaded-microparticles-to-prevent-acute-gout-flares/