Session Information
Session Type: ACR Late-breaking Abstract Session
Session Time: 9:00AM-11:00AM
Background/Purpose:Activatedmacrophages play a critical role in RA by perpetuating inflammation via TNFαrelease and participating in the destruction of bone and cartilage. Notably,macrophages are the dominant cell type in the synovial sublining of RA-affectedjoints. Thus, specific detection of activated macrophageinfiltration in RA patients may provide valuable immunodiagnostic insight towardsjoint inflammation, destruction and overall disease progression.
Tc 99m Tilmanocept is asynthetic radiopharmaceutical imaging agent that binds to the activated macrophagemannose receptor (CD206) with high affinity. It is currently under investigationfor intravenous (IV) administration in subjects with RA in a dose escalation study.The purpose of this report is to communicate safety and imaging findings fromRA subjects who received the maximum study dose of 400 µg tilmanocept/10 mCi Tc99m.
Methods: Nine subjects with clinically diagnosed RA were enrolled in the trial. Allsubjects received IV administration of 400 µg of tilmanocept radiolabeled with either10 mCi (n=3), 5mCi (n=3), or 1 mCi (n=3) Tc 99m.  Static planar gamma emissionimages of the whole body and affected joints were acquired at 60 and 180 minpost injection with additional SPECT/CT imaging of affected joints.    
Results: Noadverse events were observed after IV administration of 400 µg Tc 99m tilmanoceptradiolabeled with 1, 5, or 10 mCi of Tc 99m. There was strong correlation ofradiotracer localization to affected joints observed in gamma emission imaging.SPECT/CT imaging further demonstrated that Tc 99m tilmanocept localization isspecific to the PIP, MCP, knees, ankle, shoulder, elbow, and periarticularsynovial spaces and not in cortical bone or osseous marrow spaces.
Conclusion: Overt joint-specific localization of Tc 99m tilmanocept activity was visualizedin affected joints of all subjects who had undergone multiple RA flares despiteprevious successful treatments, which demonstrates macrophage infiltration ofthese joints as a key component of disease. IV injection of Tc 99m tilmanoceptat the maximum study dose was well-tolerated with no adverse events. These findings,in addition to prior biopsy evaluations from other subjects, confirm activatedCD206 macrophage infiltration to be a key component of RA pathology which canbe safely and effectively visualized on gamma emission imaging with Tc 99mtilmanocept.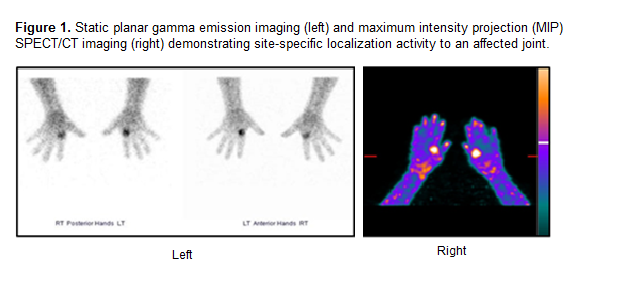 ---
Disclosure: A. Kardan, None; B. Abbruzzese, None; J. Sanders, None; A. Kissling, None; D. Ralph, None; J. Shuping, None; M. Blue, None; C. Hartings, None; R. Hershey, None; A. Ismail, None; I. Gierach, None; H. Bailey, None; A. Spaulding, None; M. Haynam, None; G. Zubal, None; F. Cope, None.
To cite this abstract in AMA style:
Kardan A, Abbruzzese B, Sanders J, Kissling A, Ralph D, Shuping J, Blue M, Hartings C, Hershey R, Ismail A, Gierach I, Bailey H, Spaulding A, Haynam M, Zubal G, Cope F. Evaluation of Intravenous Injection of Tc 99m Tilmanocept in Static Planar Gamma Emission Imaging and Fused SPECT/CT Imaging for Rheumatoid Arthritis [abstract].
Arthritis Rheumatol.
2017; 69 (suppl 10). http://acrabstracts.org/abstract/evaluation-of-intravenous-injection-of-tc-99m-tilmanocept-in-static-planar-gamma-emission-imaging-and-fused-spectct-imaging-for-rheumatoid-arthritis/. Accessed November 18, 2017.
« Back to 2017 ACR/ARHP Annual Meeting
ACR Meeting Abstracts - http://acrabstracts.org/abstract/evaluation-of-intravenous-injection-of-tc-99m-tilmanocept-in-static-planar-gamma-emission-imaging-and-fused-spectct-imaging-for-rheumatoid-arthritis/