Session Information
Session Type: ACR Poster Session C
Session Time: 9:00AM-11:00AM
Background/Purpose:
There are no validated classification criteria for relapsing polychondritis (RP). Given that some manifestations of RP are organ- or life-threatening, it is imperative that classification criteria in RP have adequate sensitivity to identify cases early during the disease. The objective of this study was to use consensus procedures to select a set of items with potential utility to classify RP, focusing on items related to disease activity and organ damage.
Methods:
An international, multidisciplinary group of physicians with experience managing RP was formed. Based on a systematic review of publications reporting on observational cohorts, case series, and case reports data in RP, combined with clinical experience, a list of potential candidate items for classification criteria was generated. All group members were invited to participate in an online Delphi exercise for item reduction. Survey participants rated each potential candidate item on a scale of 1-10 (ranging from 1=completely inappropriate to 10=completely appropriate for inclusion as a potential classification criteria item in RP). Items with a median response score of ≤4 were eliminated from further consideration. Items with a median score of ≥7 were retained. Items with a median score >4 and <7 were termed indeterminate and will be subject to 1-2 additional Delphi rounds
Results:
A list of 142 candidate items was generated related to patient-reported symptoms, physician-observed findings, laboratory, and imaging assessments in RP. The first round of the Delphi survey led to a response rate within 16 days of 81% (25/31). Respondents were from 6 countries (United States=15; France=3; Japan=3; Canada=2; United Kingdom=1; India=1) representing multiple subspecialties (Otolaryngology=4; Pulmonology=3; Adult Rheumatology=14; Pediatric Rheumatology=4). Based on survey responses, 49 items were retained, 34 were eliminated, and 59 were indeterminate. Most retained items were related to the respiratory, head/eyes/ears/nose/throat, and musculoskeletal systems (Figure). Items related to damage (e.g. deformed ear, tracheomalacia) were consistently rated higher than features of active disease (but non-damage) (e.g. red ear, anterior neck tenderness). The only laboratory items retained were a negative test for anti-neutrophil cytoplasmic antibody and a positive test for anti-collagen II antibody.
Conclusion:
This consensus exercise generated a preliminary set of candidate items for use in developing classification criteria for RP through prospective data collection. The final rounds of the Delphi will help refine what will be an extensive set of candidate items related to disease activity or damage. Development of classification criteria that represent the broad spectrum of clinical presentations in RP will facilitate the design and implementation of clinical trials in this complex disease.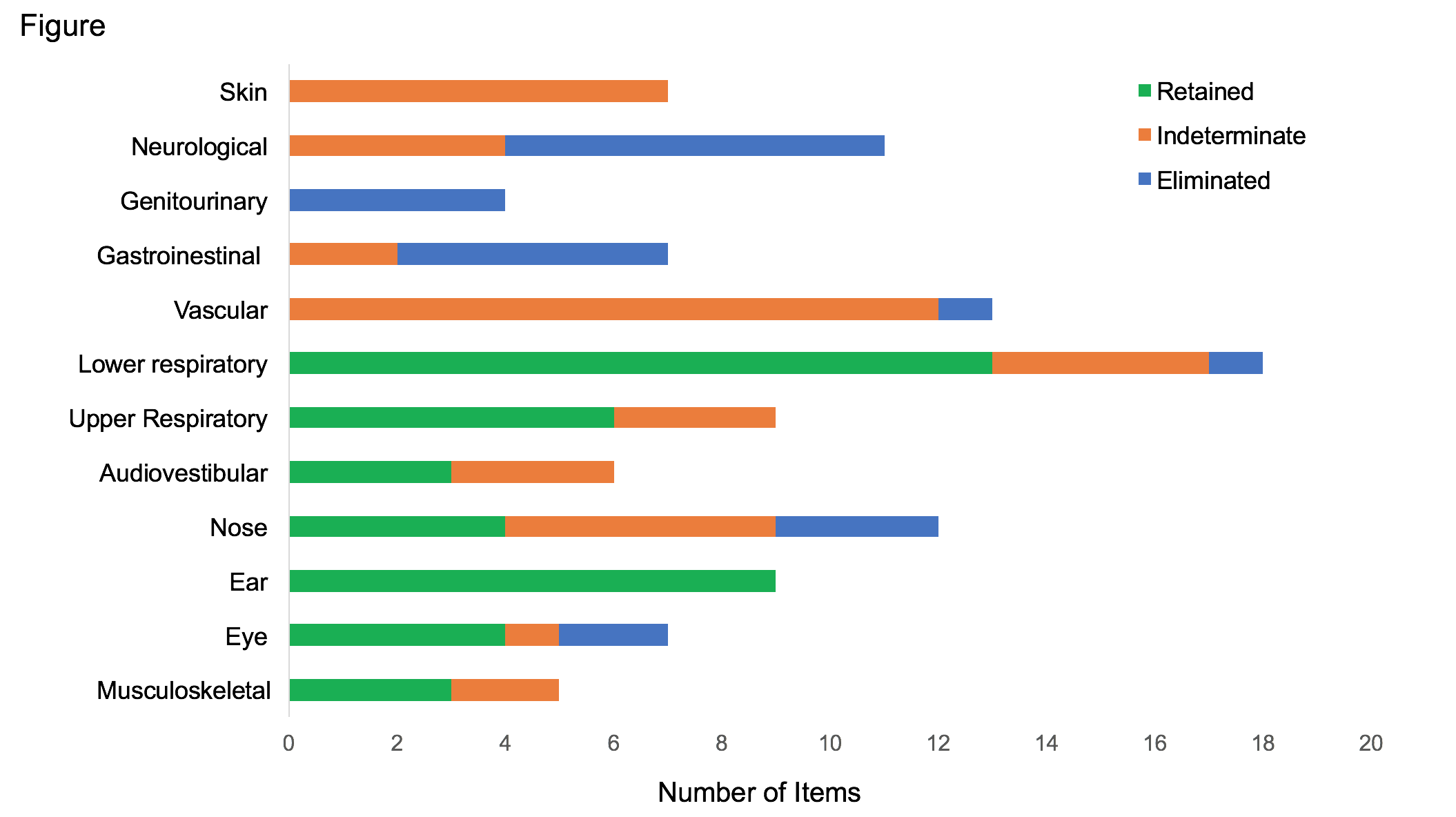 ---
Disclosure: M. A. Ferrada, None; P. A. Merkel, Actelion, Alexion, Boston Pharm., Bristol-Myers Squibb, ChemoCentryx, Genzyme/Sanofi, GlaxoSmithKline, Genentech/Roche, InflaRx, PrincipioBio, Proteon, Seattle Genetics, 5,Actelion, Bristol-Myers Squibb, CaridianBCT, Celgene, ChemoCentryx, Genentech/Roche, GlaxoSmithKline, Kypha, MedImmune/AstraZeneca, 2,American College of Rheumatology European League Against Rheumatism National Institutes of Health: NHLBI, NIAMS, NIAID, NCATS, ORDR US Food and Drug Administration The Patient-Centered Outcomes Research Institute The Vasculitis Foundation, 2; K. A. Sikora, None; R. Colbert, None; C. Terao, None; H. Yoshifuji, None; T. Nakajima, None; A. Sharma, None; S. Sangle, None; D. Rumsey, None; C. Pagnoux, None; L. Young, None; C. K. Correll, None; F. Maldonado, None; R. Lebovics, None; A. Gelbard, None; P. Zapata, None; A. Clint, None; O. Rickman, None; N. Seam, None; G. Moulis, None; N. Costedoat-Chalumeau, None; C. J. Michet Jr., None; J. D. Katz, None; P. C. Grayson, None.
To cite this abstract in AMA style:
Ferrada MA, Merkel PA, Sikora KA, Colbert R, Terao C, Yoshifuji H, Nakajima T, Sharma A, Sangle S, Rumsey D, Pagnoux C, Young L, Correll CK, Maldonado F, Lebovics R, Gelbard A, Zapata P, Clint A, Rickman O, Seam N, Moulis G, Costedoat-Chalumeau N, Michet CJ Jr., Katz JD, Grayson PC. An International Consensus Exercise to Develop Candidate Items for Classification Criteria in Relapsing Polychondritis [abstract].
Arthritis Rheumatol.
2017; 69 (suppl 10). https://acrabstracts.org/abstract/an-international-consensus-exercise-to-develop-candidate-items-for-classification-criteria-in-relapsing-polychondritis/. Accessed .
« Back to 2017 ACR/ARHP Annual Meeting
ACR Meeting Abstracts - https://acrabstracts.org/abstract/an-international-consensus-exercise-to-develop-candidate-items-for-classification-criteria-in-relapsing-polychondritis/